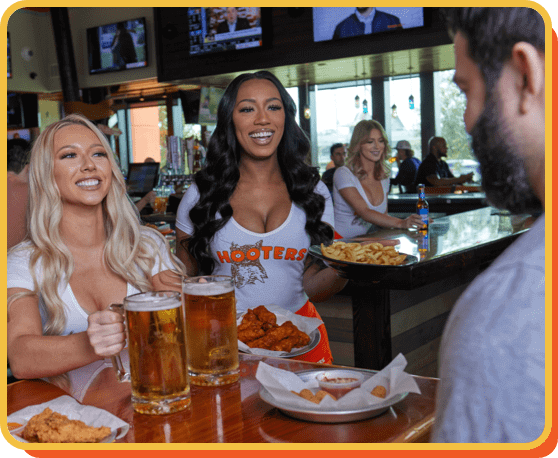 Welcome!
Keeping up with the demand for our awesome atmosphere and exceptional service means we're always looking to add to our team. And we'd be lying if we said the job is only about serving up ice-cold beer and certifiably craveable chicken wings. There's a tad more to it. That's why we offer competitive pay and high-quality benefits. So, come check out what joining a fun team is all about. Grow your career, pursue your future, root for Nascar, and pick up some skills and lifelong friends along your journey! Whoooo knew you'd look good wearing orange!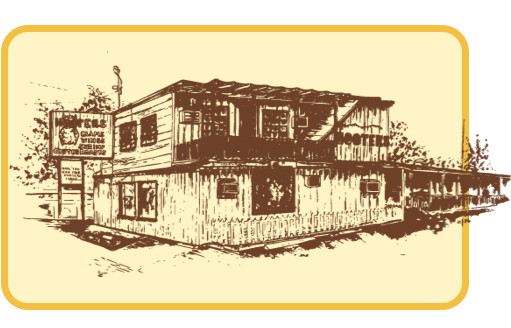 Our
History
Back in 1983 in Clearwater, Florida, six businessmen with no restaurant experience whatsoever got together to open a place they couldn't get kicked out of. True story.
More than four decades later, the Hooters brand has grown into an international sensation, with more than 420 Hooters in 29 countries. How do you say Hooters in all those languages? Here's a hint. It's just Hooters.
OUR
S.E.R.V.E.

VALUES
S

how you care

We Create Positive Experiences for Team Members, Guests and our Communities

E

levate the spirit

We Recognize People and Promote Happiness

R

espect everyone

We Treat Everyone with Courtesy and Appreciation

V

alue feedback

We Listen, Learn and Grow

E

xceed expectations

We Go Above and Beyond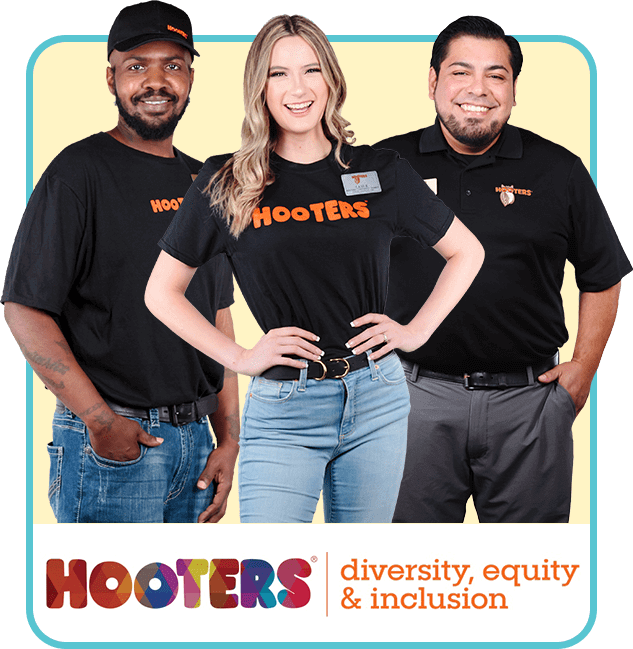 Diversity, Equity & Inclusion
An important and key principle of HOA Brands and its Affiliates is fair treatment and respect for all employees and guests. We are committed to cultivating and promoting a culture of diversity and inclusion.
Our company supports and embraces racial equality and justice for all people of color and the inalienable rights of all persons identifying within the LGBTQ+ community.
We are against all forms of discrimination. We hold in the highest regard our guests' and employees' unique characteristics associated with race, sex, gender identity, color, age, disability, national origin, citizenship, religion, socio-economic status, veteran status, and any other protected trait.
We remain dedicated to making our neighborhood restaurants a place where everyone feels welcome, and we expect the same responsibility of our employees, guests, and third parties.
Originally starting as an Assistant Manager in 2014, Adam is now a Training General Manager. Hooters has taught Adam to be patient and understanding when it comes to others. His success came from acknowledging and praising his fellow teammates!

Because of memorable childhood experiences at Hooters, Alex knew she wanted to join the Hooters Family. And so, in 2012, she did! With her outgoing personality and a company that cared, Alex knew she would thrive as the General Manager she is today!

Ashley started with the company as a Hooters Girl and in eight short years moved up into the Training General Manager position in Plano, Texas. Hooters helped Ashley experience a multitude of opportunities that shaped her into the leader she is today!